Conditions
Get 3.75% cashback on full price items, 1.5% cashback on discounted items. Please note: cashback will not be paid on VAT, P&P, engraving and gift wrapping. Cashback will not be paid when a voucher or gift card is either purchased or used.
Earn Up to 3.75% for online purchases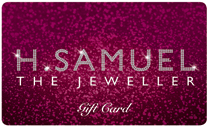 Signet
Conditions
Gift Cards are redeemable in store and online. We endeavour to dispatch your order by post within three full working days (Mon-Fri).
5% Discount when you buy Signet Gift Cards