Argos offers a fantastic range of great value products including furniture, entertainment, Sat Navs, toys, games, home appliances, garden, sports, personal care, jewellery, watches and much more; all at competitive prices. Please note: You will not get cashback if you buy online and collect in store.
Free £10 voucher when you spend £100 or more. Free £5 voucher when you spend £50 or more until 23rd April.
You will be spoilt for choice at Argos, with a huge range of great valued products. Take advantage of the Argos sales with many products reduced including fitness equipment, furniture, televisions and home appliances.
Argos is a leading retailer of UK and offers a fantastic range of products, over 50,000 of them, and that includes all the top brands. Choose from a huge range of products online, under various categories, such as, Clothing, Gifts, Toys, Home & Garden, Technology and many more.
Conditions
Get 1.5% on Pre-Pay Check and Reserve, 18p on Advanced Check and Reserve.

Please note: No cashback is earnt if you buy online and collect in store.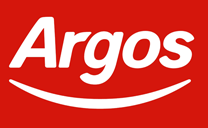 Conditions
These vouchers are only redeemable in stores and cannot be spent online. We endeavour to dispatch vouchers by post within three full working days (Mon-Fri).