BHS are one of the UK's favourite retailers on the high street, offering a wide range of clothing, home ware, indoor and outdoor furniture, lighting, accessories, beds and bedding, kitchen ware, dining, bathroom ware, curtains, bridal wear, lingerie, shoes and so much more.
20% off using code: HAPPYDAY, 10% off electricals using code: ONOFF until 19th May.
BHS department store has over 180 stores throughout the UK, offering a huge choice in womens, mens and children's wear, as well as an extensive home and furniture collection. This card is re-loadable. This means after you get a card, you can re-load it again and again if you want to. You will only receive a discount on the reload when returning to this site to top up.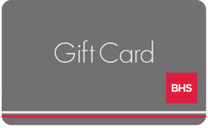 Conditions
These gift cards are only redeemable in UK stores, and cannot be spent online. We endeavour to dispatch your order within three full working days (Mon-Fri).